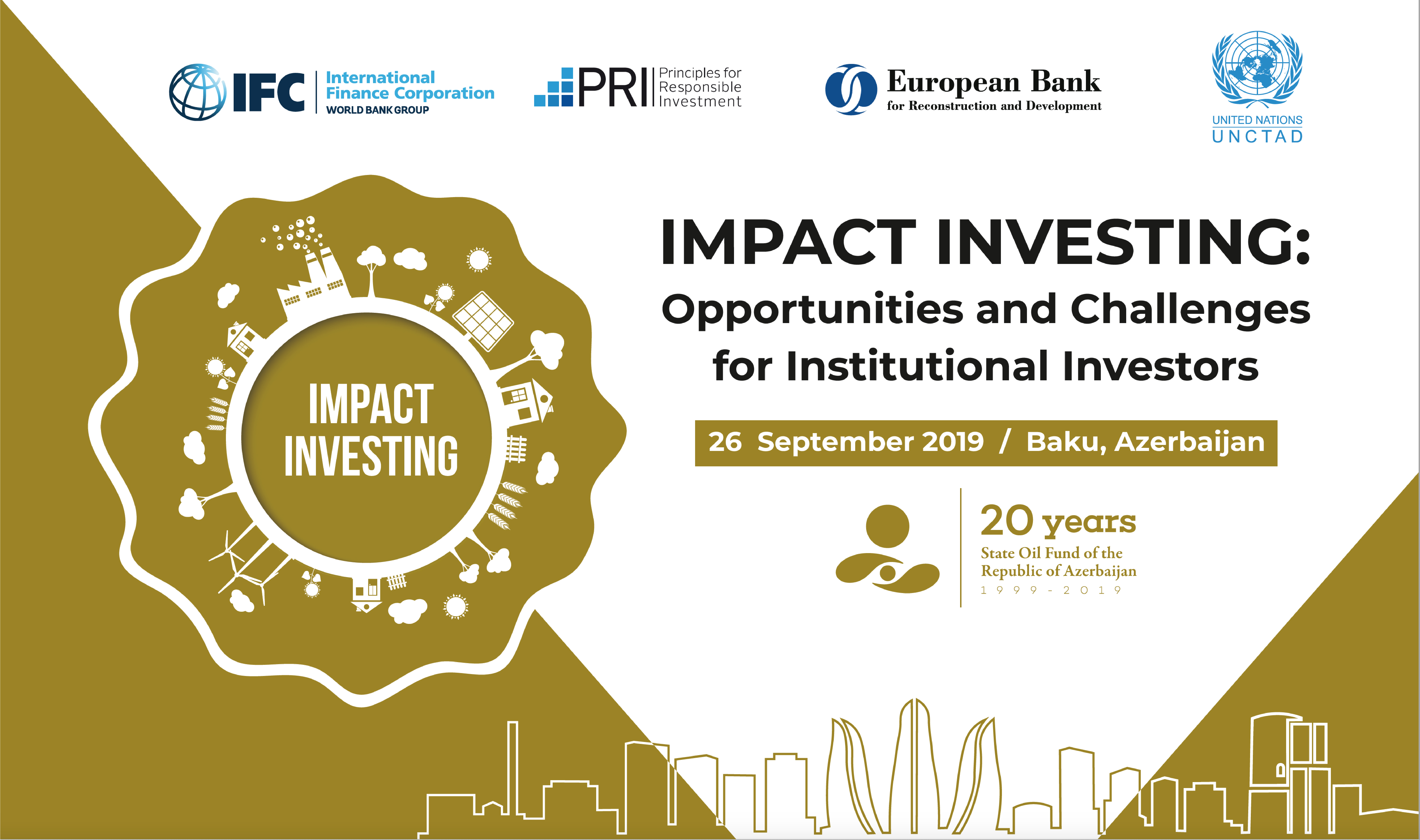 Impact Investing: Opportunities and Challenges for institutional investors
25-26 September 2019
Baku, Azerbaijan
Description
Sustainable Investing has grown rapidly over the past 10 years. It increasingly offers institutional investors the opportunity to earn a risk-adjusted, market-rate return on their investments while having a positive social or environmental impact. The conference will cover the discussions of current trends and the future of impact investing, evolving markets and asset classes, strategic implementation of the impact investment themes, the latest measurement and reporting tools and the role of governments in impact investing mainstreaming.
September 25
19:00 – 21:00 – Welcome Cocktail Reception (Fairmont Hotel Baku)
September 26
08:00 – 09:00 – Registration (Hilton Baku Hotel)
09:00 – 09:05 – Welcome Remarks, Mr. Shahmar Movsumov, CEO of the State Oil Fund of the Republic of Azerbaijan (SOFAZ)
09:05 – 09:20 – Opening Presentation, Mr. Rohit Talwar, CEO, Fast Future
Session 1: Impact Investment Defined
09:20 – 10:30 – The first session is dedicated to the discussion of the core attributions of impact investing and its difference from ESG and SRI. It is essential to understand the forms of value that impact investing creates for investors. The session also includes the update of the current evolving trend, then discussing how this trend is going to shape the future of the impact investing, and the role of major global initiatives and organizations in this process.
The core characteristics of impact investing
Difference of impact investing from ESG and SRI
The value creation role of impact investing for institutional investors
Current trends, and the potential future scale of impact investing
The role of major global initiatives and organizations in the development of impact framework
Moderator: Mr. Hans Peter Lankes, Vice President, Economics and Private Sector Development, International Finance Corporation (IFC)
Panelists:
Mr. Mattia Romani, Managing Director, Economics, Policy and Governance, European Bank for Reconstruction and Development (EBRD)
Ms. Maha Eltobgy, Member of the Executive Committee, Head of the Investors and Infrastructure Industries, The World Economic Forum (WEF)
Ms. Helga Brigden, Global Business Leader, Responsible Investment, Mercer
Mr. Patrick Schena, Adjunct Assistant Professor of International Business, The Fletcher School, Tufts University
Mr. Ian Simm, Founder and CEO, Impax Asset Management Group plc
Session 2: Markets and Products
10:30 – 11:40 – Following the previous one, the second session is aimed at discussing how the current trend of the impact investing is reflected in the financial markets. The session provides awareness about the new market products and their risk-return characteristics that evolved as a consequence of changing environment, and to explain the role of these products on institutional investor profiles. Finally, it is important to understand how managers' return spectrum is expected to change as a consequence of all these changes.
Advancements in the current impact market
Evolution of the asset classes and institutional investor profiles
Expected change in managers' return spectrum
Moderator: Mr. Jonathan Bailey, Managing Director, Head of ESG Investing, Neuberger Berman
Panelists:
Mr. Alan Synnott, Managing Director, Global Head of Research & Product Strategy, BlackRock Real Assets
Mr. Charles Goodwin, Head of Public Finance and Co-Head of Social Investing, BNY Mellon Capital Markets
Ms. Miljana Vujosevic, Vice President, Impact Investments, Prudential
Ms. Megan Starr, Principal, Head of Impact, The Carlyle Group
Mr. Michael Hoelter, Portfolio Manager, Sustainable Investments, Alternatives, DWS
11:40 – 11:55 – Networking break
Session 3: Strategy integration and implementation
11:55 – 13:05 – This session which mainly focuses on practical aspects, starts by the discussion of the strategic integration and implementation of impact investing by institutional investors. It outlines Sustainable Development Goals (SDGs) developed by UN, and discusses how these goals are utilized in defining investment strategies. Furthermore, examples of successful strategies are going to be presented and discussed.
From sustainable returns to impactful returns
Utilizing the SDGs to define investment strategies
Examples of successful strategies
Moderator: Mr. Tom Beagent, Director, PwC United Kingdom
Panelists:
Mr. Bjoern Geir From, Investment Director, Norwegian Ministry of Finance (currently seconded to the World Bank Treasury as a Senior Financial Officer)
Mr. Ewald Stephan, Executive Director (CFO), VERKA VK Kirchliche Vorsorge VVaG (German pension fund)
Mr. Simon Beauroy, Director Strategic Partnership Development, Bpifrance
Ms. Evelyn Leen , Senior Investment Manager, Ireland Strategic Investment Fund
Mr. Lucas van Berkestijn, Executive Director, Head of Sustainability Investing Delivery – RobecoSAM AG
Lunch Time: 13:05 – 14:10
Session 4: Measurement and Reporting
14:10 – 15:10 This session is dedicated to the measurement and reporting aspects of the impact investing. More specifically, this session is going to address the complexities and costs related to impact measurement, monitoring and reporting. Current developed monitoring tools and processes will be presented. Later discussion will cover reporting and auditing rules that are needed to assess soundness of the existing strategies and frameworks. Examples of successful investment processes and metrics tracked will be presented and discussed.
Developed metrics on outcomes
The complexities and costs of impact measurement and reporting
Currently utilized impact measurement strategies
The necessary auditing and reporting rules to create confidence in claims about achieving impact on investment portfolio
Examples of successful framework and metrics
Moderator:Ms. Yulia Sofronova, Head of Nordic, CEE & CIS, Global Networks & Outreach, UNPRI
Panelists:
Mr. Christian Rosenholm, Senior Professional (Development Impact), IFC
Mr. Mika Pyykkö, Project Director, Impact Investing, the Finnish Innovation Fund Sitra
Mr. Martijn Oosterwoud, Executive Director, Head of Sustainable Investing Specialists, UBS Asset Management
Ms. Julie Castiaux, Senior Manager, Deloitte
Session 5: A Sound Policy Framework for Impact Investing
15:10 – 16:10 As a relatively new development financing tool, impact investment needs a sound policy framework to prosper. This session will shed lights on the role of governments in impact investing mainstreaming. Specifically, the session will look into the key policy barriers that impact investors face in developing economies and what governments and international organizations can do to facilitate these investments and magnify their impact on sustainable development.
What are the key policy challenges faced by impact investing?
What are the key elements of a sound policy framework for impact investing?
How can government facilitate impact investment and magnify its development impact?
What is the role of international cooperation?
Moderator: Mr. Patrick Schena, Adjunct Assistant Professor of International Business, The Fletcher School, Tufts University
Panelists:
Mr. Laurent Zylberberg, Chairman, the European Long-Term Investors Association (ELTI); Senior Vice President, Caisse des dépôts (CDC), France
Mr. Vishal Kumar, Assistant Vice President, Invest India
Mr. Kurt Morriesen, Senior Advisor, UNDP SDG Innovative Finance (UNSIF)
Mr. Yongfu Ouyang, Chief of Institutional Investment Facilitation, UNCTAD
16:10 – 16:30 – Networking break
Session 6: Investing in a Time of Energy and Climate Transition
16:30 – 17:30– Long-term, non-traditional risks such as climate change pose unique challenges to investors because they combine varied physical, technological, and regulatory impacts. Furthermore, these risks will play out over a multi-decade horizon which is not fully encompassed by most market analyses but is nonetheless financially material to long-horizon investors, including many sovereign and pension funds. Reduction of portfolio carbon exposure is an increasingly popular approach, but are there more impactful steps investors can take to systemically reduce and build global resilience against a broader set of climate risks? This session examines the unique position of long-term investors as impactful leaders against climate change.
Examine the impact of investor leadership and engagement on climate risk on the global corporate community
Explore how sovereign structure, governance, and other institutional features shape responses to climate risks
Share corporate perspectives on how investors can maximize their impact through investment, engagement, and advocacy practices
Moderator:Mr. Adam Robbins, Project Lead, Investor Industries, WEF
Panelists:
Ms. Fiona Dunsire, Wealth Leader, Growth Markets, Mercer
Mr. Richard Eckrich, Head of Infrastructure, Nigeria Sovereign Investment Authority
Mr. Håvard Halland, Senior Economist, OECD
Mr. Massimiliano Castelli, Managing Director, Global Head of Strategy, Global Sovereign Markets, UBS
Representative of SOFAZ
17:30 – 17:40 – Closing remarks
19:00 – 23:00 – Gala Dinner (Han Restaurant Baku)
September 27
10:30 – 15:30 - City Tour
Attendees are invited to the City Tour to discover historical, architectural, cultural and modern faces of Baku.