Bloomberg, 14 April 2016 - Afterdiversifyinginto gold, real estate and Chinese bonds, Azerbaijan's $33.6 billion wealth fund has some catching up to do with its peers when it comes to equities.
This year's global selloff has done nothing to dissuade the State Oil Fund of Azerbaijan, known as Sofaz, from plans to raise itsallocationof equity investments to 15 percent from 10 percent. That compares with a 60 percent weight allotted to stocks by Norway's sovereign wealth fund, the world's biggest. Sofaz had 6.5 percent of its assetsinvestedin equities at end-2014.
"The recent increase in its weight in the investment portfolio is part of a plan of gradual shift toward a well balanced portfolio and should not be seen as a conscious bet on the direction of the equity markets," Deputy Executive Director Israfil Mammadov said Wednesday by e-mail. "It is still heavily under-invested in equities."
Sofaz is willing to take on more risk even as it's emerged as a crucialbulwarkfor the third-biggest oil producer in the former Soviet Union after Azerbaijan's economy was blindsided by the collapse in crude prices. Together with the central bank, whichdrainedmore than two-thirds from its reserves to support the manat, the fund has been selling dollars to lenders to stabilize the foreign-exchange market. It receives most of the government's oil-linked revenue and uses transfers to finance the budgetand infrastructure projects.
'Long-Term'
"As a long-term investor we aim to hold equities in proportion to their weights in diversified global indices," Mammadov said.
The outlook for equities has improved. Global stocks rallied for a fifth dayand oil climbed on Thursday amid renewed optimism about China's economy. The Stoxx Europe 600 Index rose after Asian equities posted their longest rally in a year.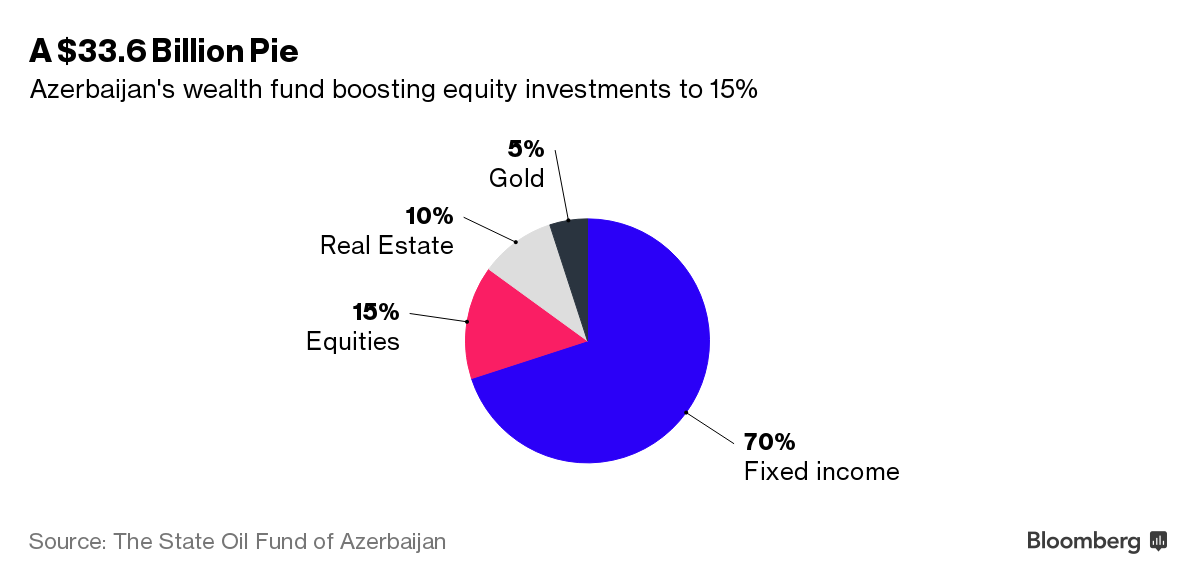 The Baku-based fund, whose assets are nearly equivalent to Azerbaijan's gross domestic product, is one of only three earners of foreign currency for the country, according to central bank Governor Elman Rustamov. Established in 1999 to manage income from the sale of crude oil and natural gas,Sofaz's assets fell more than 9 percent in 2015 from a year earlier after more than doubling since 2009.
In addition to equities, it had 87.5 percent of assets invested in fixed-income securities at end-2014, 2.9 percent in real estate and 3.1 percent in gold, according to its website.
As an "intergenerational" fund, Sofaz is trying to balance current concerns with longer-term considerations, according to Mammadov.
Its strategy is "guided by the balance of imminent needs of today as well as the formation of a perpetual fund in the long run, able to generate income flows to fund the needs of future generations," he said. "Therefore, the respective roles and attractiveness of various asset classes are always seen through this dual function prism."
'Positive Dynamism'
If oil prices remain at their current level of over $40 a barrel, Sofaz's assets may end the year at more than $30 billion after showing "positive dynamism" in the first quarter, Mammadov said. The fund has benefited from the government's revision of the crude price it uses to calculate this year's budget to $25 from $50 and a decrease in planned capital spending, he said.
As Sofaz has looked to reap better returns, last year it started to invest in the Chinese yuan and clinched its first property dealin Japan with a 52.3 billion-yen ($479 million) joint purchase with Mitsubishi UFJ Trust and Banking Corporation. The Azeri fund began broadening its portfolio in 2012 by adding gold, equities and real estate.
Sofaz wants to broaden its exposure to China after purchasing renminbi-denominated bonds issued by the government and the financial industry, investments it made to gain "additional currency diversification," according to Mammadov. The fund's long-term plan is also to expand into Chinese equities, he said.
'Investment Opportunities'
"Our interest in the Chinese market has been underpinned by growing investment opportunities in its financial markets," he said. "We are constantly monitoring developments in the Chinese economy to identify a more suitable time for entrance."
The fund's increasing allocation into equities isn't coming at the cost of its investments in real estate, whose weight was increased late last year to as much as 10 percent from 5 percent of total assets under management.
"We have not stopped our investment program in real estate, be it in Asia or in Europe," Mammadov said. "Currently the portfolio is equally split between investments in Europe and Asia Pacific and we aim to keep this balance going forward."
Prominent on Sofaz's "radar screen" is real estate in London, he said. It's also looking at different property sectors and investment vehicles after already investing in real-estate funds focusing on western Europe and Asia Pacific.
The plan is to "continue the weight of these investments in 2016 and beyond," he said. "As the real-estate cycle has advanced in many countries, opportunities that deliver above-average risk-adjusted returns have diminished. However, there are still a number of markets where pricing remains attractive and it is to these markets that we remain vigilant."
https://www.bloomberg.com/news/articles/2016-04-13/plunge-into-equities-shows-azeri-oil-wealth-fund-playing-catchup